Good Laboratory Practice services (GLP) offered by TESTAPI include the competency to perform GLP dust drift studies following BBA Drift Guideline.
The investigation of incidents regarding honey bees and data from subsequent research projects have shown that exposure to dust drift, is a notable exposure route to bees, which may lead to severe effects on non-target life.
According to EU guidelines, risk assessment studies have to be performed for the evaluation of seed and tuber treatments (treated seed and pesticide applied in the row of sowing).
To investigate the dust deposition during application, sowing or planting of coated seeds/tubers, or granule application with pneumatic or mechanical sowing machinery, Testapi is conducting dust deposition 3D studies, adapting its protocol to the study needs.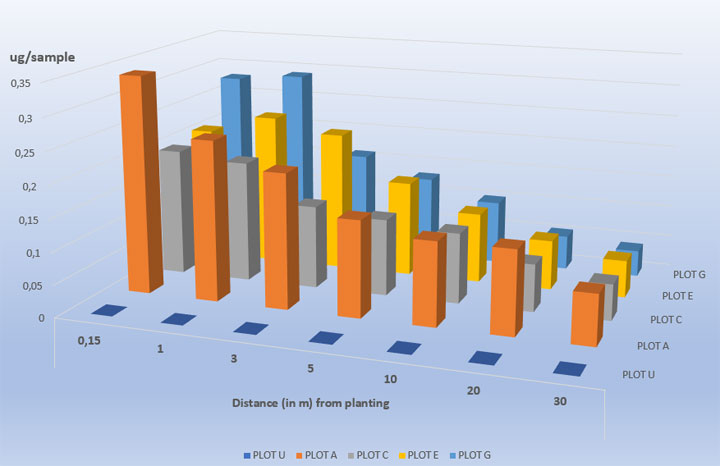 The amount, fraction size distribution and residue content in dust emitted during the sowing or planting process, or pesticide granules applied in the row of sowing, are relevant for exposure. All three may differ depending on crop type, dose rate, and treatment recipe.
TESTAPI has developed specific designed methodologies and studies to record and monitor the drift of contaminated dust following application of PPP in the row of sowing, or following the sowing of treated seeds or tubers. TESTAPI evaluate the quantity of residue in dust.
The PPP content in dust deposited during drilling is investigated in "worst case conditions" (windy weather, dry soil) by placing dust collectors in the field. Dust is collected from the air (vertical projection area) and at ground level (soil surface), close to and around the sowing zone, in order to provide a full set of residue data.
TESTAPI is providing management, direction and monitoring of the residue field phase and analytical phase across Europe, using local country offices and qualified GLP workers to set up trials and manage dust drift studies in Northern and Southern EU zones. This allows selection of suitable and representative types of application/planting equipments.