Testapi realizes acute and chronic toxicity tests on adult honeybees in laboratory conditions. These tests allow determination of LD50 and LC50.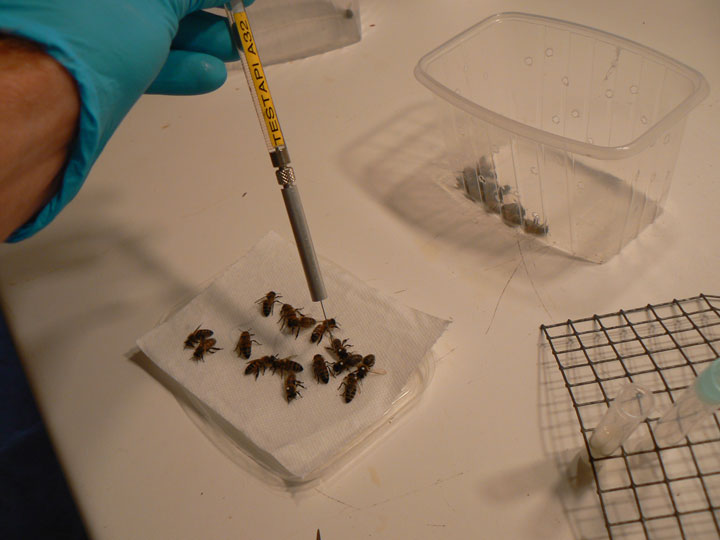 Acute toxicity
These studies aim to calculate the acute oral or contact LD50, studies are performed on honeybees, bumblebees and solitary bees in compliance with GLP and OECD Test Guidelines no. 213/214 (honeybees) and no. 246 /247 (bumblebees), CEB 230, EFSA guidance document.
Bee larvae acute toxicity are also performed in collaboration with an Italian test facility according to OECD 237 and EFSA guidance document.
Chronic toxicity
Run mainly on honeybees, these tests aim to determinate the NOEC/NOEDD and chronic LC50 and LDD50 (OECD Test Guideline no. 245, CEB 230).
Bee larvae repeated exposure studies are performed in collaboration with an Italian test facility (OECD 239), EFSA guidance document)
Furthermore, Testapi developed and runs laboratory test on NOAEL, on other pollinators and on bee brood.
NOAEL
Testapi can also determine the No-Observed-Adverse-Effect Level on honeybees (NOAEL).
Brood studies
By extension, Testapi also runs impact studies on honeybee brood. In collaboration with French organism of research INRA, Testapi is the only French company able to manage such studies from the protocol to the final report.
Other pollinators
Finally, following the evolution of the registration needs, Testapi proposes laboratory studies on bumblebees and solitary bees.